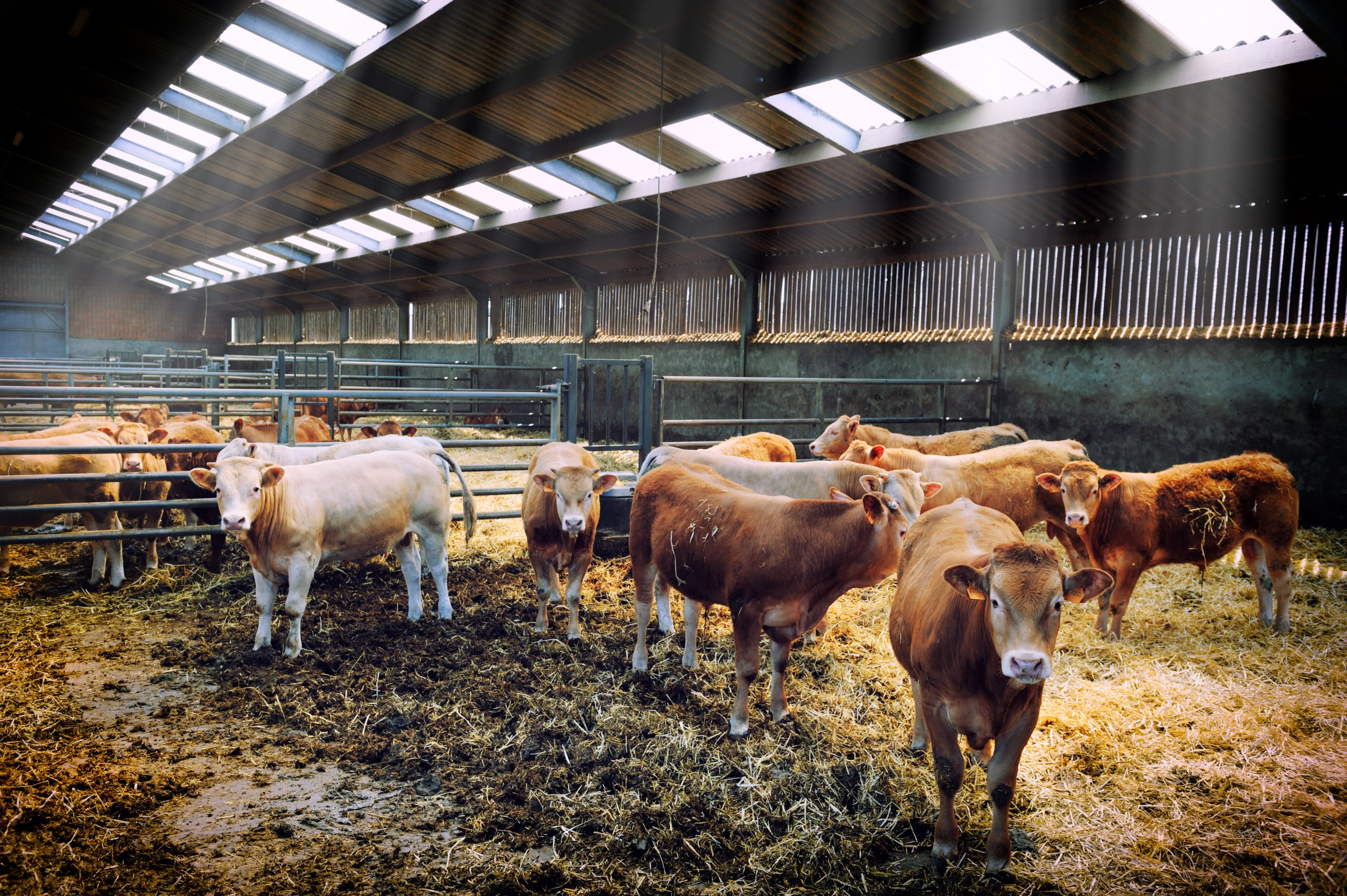 16 Best Livestock Management Apps 2023 Free & Paid
Isn't it an exhausting task to handle a cattle farm with a diverse range of animals? Apart from simply taking care of the livestock, farmers need to manage other aspects such as, managing the farm animals, milk production, income, and other miscellaneous expenses.
So, how do modern day farmers manage their farms? Well, you guessed it the answer is tech. 
With livestock or cattle management apps available in the market, farmers can easily handle their farm mechanism and livestock remotely. These applications help farmers track and access all the crucial details they need to be acquainted with- right from the birth of animals to when they are sold.
Moreover, they provide farmers remote access to the livestock at farms to better manage their farms wherever they are.
What is Livestock Management?
Livestock management is in essence managing the day-to-day activities that a farmer carries out as part of his efforts to raise his animals. 
It involves providing and maintaining adequate housing, providing a good diet, Medicare, and sanitation of animals. The software that helps accomplish is known as livestock management app. 
These apps offer the most effective way to aid in feed production, feed formulation, accounting, feed selection, animal production, and many other records against specific factors such as climate conditions, land conditions, feed recipes, and more. 
With this overview of livestock management in mind, let's dive into details to learn about the best free and paid livestock management apps in 2021. 
What are 15 Best Livestock Management Apps 2023 Free & Paid?
To improve livestock farming management, you need to take the help of the right software. So, here we have curated the fifteen best livestock management apps- both paid and free- to make your search easy.
8 Free Livestock Management Apps in 2023
Cattlytics is a groundbreaking App designed to help farmers and ranchers manage their livestock operations. It provides comprehensive tracking and reporting related to Animal health and allows users to set up automated reminders and alerts for feeding, vaccinations, and more. With this App, ranchers can stay organized and be informed about the health and well-being of their livestock.
Rancher's dashboard gives you real-time access to custom reports. 
Offline mode ensures workers can still input data while in remote areas without internet connectivity. 
You can manage breeding and production data in realtime.
Offers flexibility in changing languages.
Provides limited languages.
My Cattle Manager is a simplified cattle management app for dairy farmers to handle their farms by tracking and recording farm cattle events. The app helps with quantifying income, milk production, and expenses to manage dairy farm cash flow.
Furthermore, it generates detailed visual and pdf reports on the fly to help with profitable and handy dairy farming. 
It also comes with the ability to track individual and mass cattle events like cow vaccinations, weighing, spraying, inseminations, and other birth-related phases and treatments. 
Once the app tracks all these events, it provides you with records of all events and statistics to handle cattle breeds for all or a specified number of animals.
It has the ability to backup, restore, and share data between different devices.

It gives options to insert cattle pictures and export reports to Excel or pdf, etc.
In Android phones, sometimes the app crashes without any error message.

The app may show loading errors, screen freezing, and other activation issues.

Updating the app may cause a problem and the app may shutdown without completing the process.
With My Poultry Manager, poultry management has become easy. It is one of the best apps with easy navigation to help you track feed, flock, egg production, vaccinations, and farm cash flow. 
It is an app for modern poultry farmers to get a comprehensive view of their poultry management efforts in the form of graphical reports.
This handy app helps farmers record flock sales, feed purchases, and eggs sales. Just after the sales are made, the app automatically updates the addition or reduction of farm inventory. 
Then, it generates farming income reports for poultry products bought or sold, current poultry inventory, transaction, egg production, and reduction reports, feed calculation and usage reports, and more.
Sets passcode to keep user account and private data secure

Backs up and restores data to a user Drive account

Allows you to set customized reminders or notifications

A free and easy-to-use app for productive farming.
The notifications for the app may not work well.

Updated versions of the app may crash while loading.
Cow Master is another great app to give you constant control over the health of your animals, their milking process, and everything else that happens in the stable and requires considerable effort. 
Cow Master has an integrated herd management system to optimize your dairy farm tasks enabling you to control and handle every aspect of your herd at the most affordable price.
Since different phases of the lives of farm animals like timely inseminations need proper handling, the app has a robust notification system to constantly keep you aware of all those phases.
With some additional modular and flexible components available in the app, you have the freedom to choose the solution that best suits the requirements of your farm. 
The application works well on all devices and requires no internet connection.

Stores users' data in the local device and enables data restoration, too.

Records all farm-related data and provides periodical reports for profitability.
The app may not calculate the sum of total milk production when individual cow's milk is added separately.

At times, premium account holders may face problems while sharing herd management databases. 
Farm Manager and Analyzer
After issues faced by users last year, Farm Manager and Analyzer is back in 2021 with fixed bugs to help you manage your livestock better. 
It has the capability to search animals on the farm using a tag or microchip number. Its animal lists now show more details and include more options like data entry and analysis for poultry and cattle. 
Within its entry menu, it has added two options to add new entries to the previous ones or replace the existing ones with newly entered values. 
So, you can add more descriptions for each animal. Furthermore, the income and expense charts in the app can be filtered by month so that you can assess each month's profit separately.
It offers a free trial and free version.

Includes a wide range of features such as registering animal details, updating them, recording treatment, vaccination details, breeding, and milk production of cattle.
The application does not offer training for learning its use.

Only installable in Android phones, iPhone, and iPad.
VacApp ranks among the best apps designed to manage livestock farms taking control of cows and calves. It is particularly developed for an extensive cattle herd to keep farmers mindful of all the cattle information. 
Moreover, VacApp works without an internet connection so that you can manage your farming tasks anywhere, including remote areas with low internet connectivity.
The app also enables registration for various events, such as animal births, weaning, and treatments carried out by vets for the better health of animals.
Stores data in the cloud so that no data is lost.

Organizes animals in herds and tracks their movements without using the internet.

Easy data sharing with other farm owners or stakeholders.
Syncing between different apps may become difficult to handle.
AGEX Herd is another great app for managing the herd by keeping track of animal weight, history, and health with the help of a tagging system. 
It is a useful tool in livestock management that works by using AGEX tags utilizing RFID, QR codes, and traditional visual numbering systems.
Farmers can scan these tags into the application with ease. Further, they can transfer the history of cattle from one owner to another who purchases it then. 
The app can also work without tags with the difference that the history of the cattle is not easily transferable to other stakeholders. 
Easy to use app for farmers without technical expertise.

Free app for collecting data and managing cattle operations.
The app only works in specific countries.
One of the best apps to manage the herd and drive profit is Livestocked. 
It helps efficiently handle livestock business online. With its intuitive mobile interface, it allows you to administer your herd, record expenses, create invoices, as well as track input inventory such as chemicals, fertilizers, feed, and semen, and embryo.
It is a mixed enterprise solution for the users to enjoy handling multi-species and multi-breed livestock management.
Offers a region-free version and a free trial for users.

Solution for online livestock business management
Only deployable when certain system requirements are met

Changing the setting for one animal may lead to changes to the entire herd.
8 Paid Livestock Management Apps in 2023
As a livestock management software developed for modern livestock businesses, Ranch Manager is one of the best apps. It keeps detailed records of your livestock, managing ID, breeding, and pedigree.
It comes with many basic accounting capabilities that record and help you manage expenses, profit, and loss. 
By tracking animal herds and their behavior, the app provides information about animal locations and their health-related details.
To keep your tasks organized, the app allows you to set events in a calendar where you can add numerous notes to remind you of important actions.
The app makes finding animals easy and sharing their details with other users simple. 

Records animal-specific details within a single customized livestock program.

Allows offline use to sync with desktop and export files to Excel.
Offers no free

trial.

Costs extra to sync with other devices.

Some issues may pop up during the use, such as deleting an animal and difficulty accessing customer service.
Being a farm and livestock managing app, NAVFARM contributes to handling bookkeeping, food processing, and distribution, and farm production along with critical reporting on-farm operations. 
The NAVFARM app completely automates many tasks by transforming valuable data into growth opportunities.
Besides automating tasks, it gives you the control to track and monitor your livestock from birth to their sale and makes everything in between a cakewalk for you.
Easy navigation for efficient and effective management of farms.

Saves a lot of time by automatically generating reports.

In addition to tracking purchases and expenses, it allows you to make and receive payments.
The app may not get updated automatically.

The application may come with viruses that can steal your data.
Livestock Manager makes tracking and administration of livestock effective. The app is so flexible that it can handle multiple IDs while tracking pedigree, treatments, animal movements, milk production, calving, and more at the same time.
Primarily, the application is developed for commercial livestock enterprises to provide them with in-depth records of livestock management. It is packed with lots of other features to help farmers calculate the amount of food consumed, formulate feeds, and compute the cost of feed to make informed decisions in the operation of farms. 
Finding historical data for animals, adding notes to keep users organized, and reporting on each animal and herd performance are a few more features that the app incorporates.
An all-in-one application with numerous features

Provides key metrics for tracking costs and performance
The app may take longer to load and upload images.
CattleMax application is an easy way to manage herds from home, pasture, and office. This cattle software helps with keeping records of cows and managing their production.
Being specifically designed for cattle, CattleMax tracks complete records, including calving histories, breeding records, and medical treatments in just a few clicks. 
Furthermore, it also allows users to maintain additional details like calendar events, general income records, and expense tracking.
It is a web-based app accessible through any mobile or computers.

It provides a one-hour class for learning the system.

It comes with a one-month free trial and does not charge for the update.
It involves considerable subscription cost.

The app cannot work without an internet connection.
For the farmers looking to improve dairy herd fertility, save time, and maximize profits, FarmWizard is the best application. 
By allowing interactive data sharing with external systems, the FarmWizard app reduces paperwork, saves time, and improves herd performance.
FarmWizard livestock management app supports the planning and actions of farmers by providing calendar dashboards for daily and weekly review. 
Furthermore, its reporting ability provides reports and data essential for making informed and profitable decisions.
 Its additional feature, feedstock management, aids to reduce waste and increase profitability and efficiency.
Allows you to make changes anytime via a smartphone.

Sends push notifications to ensure the important events are not missed.

The vendor provides full training and tech support for the app.
Provides limited features

Sometimes the app may crash and needs reinstallation.
Chetu provides advanced analytics and data for livestock management operations. Chetu's livestock management app helps you plan finances, record keeping, grazing, breeding, and herd management. 
Its software specialists design custom platforms for livestock management centralizing tasks related to cattle, poultry, and other dairy herds management. 
With Chetu's database management solutions, the users can view and edit data for any animal in the herd.  
Supports multiple languages, including English, Spanish, French, and German

A customized platform for the specific needs of farmers.
Residents of other countries may find the difference in time difficult to manage their work with the app.
Being added to the list of the best apps, Muuu is also a solution for livestock management. It saves time by allowing import and updates cattle data on the go.
It helps you keep your cattle data and analytics updated for making better decisions, giving you complete control over your livestock management.
With Muuu's simple interface, farmers can record, track, and analyze cattle farm data seamlessly.
Offers a short-time free trial.

No on-premise installation is required. 

Multiple farmers can collaborate and share management activities in real-time.

Accessible anywhere through any device with an internet connection.
It does not support the areas with poor internet connections.
CattlePro handles the everyday needs and demands of the cattle business. It allows the creation of color-coded pedigree trees for tracking animals in association with their families. With the app's multi-record functions, users can get cattle records updated selectively or by groups.
On the add or edit screen of the app, there are display options that give users access to all animal files with various details such as location codes, color codes, descriptions, and custom fields to add detailed information for all animals.
Offers flexibility of changing languages.

All-inclusive app for keeping all records.

Supports access from any device.
Since its pricing starts from $195/month, it is an expensive choice for small businesses.

Small commercial cattle producers get fewer reports.
Conclusion
Whether you have a farming business and want to abandon your existing system to adopt a new one or want to get started with a new farming business, in either case, livestock management apps have got you covered. Livestock management apps help farmers manage their livestock business remotely.
The livestock management tools give you complete monitoring, administration, and management of cattle to bring more productivity and profit to your business.