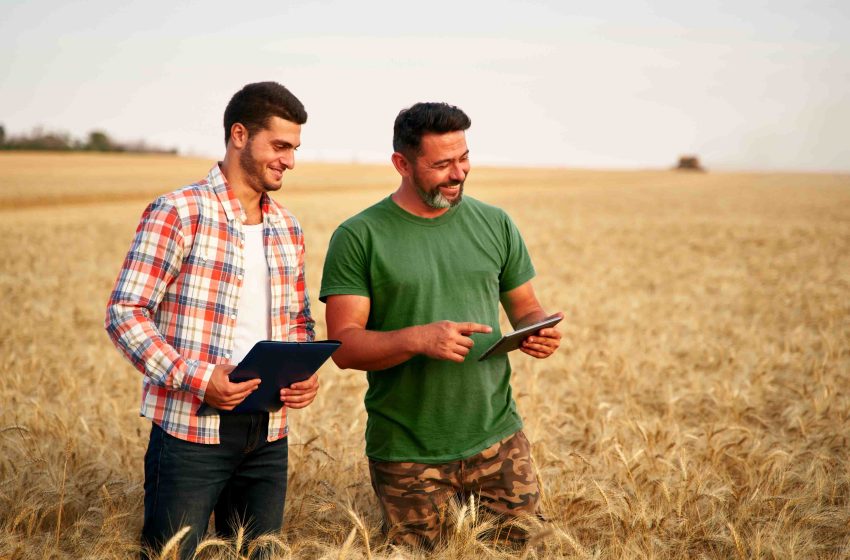 How to Choose the Best Field Management Software
The AgTech revolution has been in full bloom up to this point. From robotic harvesters and automated tractors to drones, precision farming, and geomapping. All of this is only one of the many farm technologies that are transforming agriculture today. Whether running a large farm enterprise or a little family farm, every farmer seeking to increase production profits must incorporate a new element into his daily routine.
However, the popularity has made the selection of a good field management software for farmers a tedious task. Good software for field management should be simple to use and highly efficient in record keeping. Find out how to choose the top agricultural record-keeping software quickly by following along with us in this article. 
But before that you must answer the following simple question first;
How user-friendly is the farm software?
It should be simple to export your data, accessible from anywhere, and simple to set up in a customer-centric way.
Is your farm managing diverse operations?
The majority of field management software available are geared for a particular or a single type of business. Make sure the system can serve your needs if your farm is growing or raising multiple kinds of products. 
Does your farm require eStore to sell products online?
With Covid 19, delivering goods to customers is much more challenging. Your chosen field management system should make transporting and selling your farm produce simple.
Does it grasp what you need as a farmer? 
Many businesses in the farm industry have no history in farming. Does it understand the farmer's needs, does it regularly solicit input from their clients and does it listen to them, etc. all this and more has to be answered before proceeding things any further.
How To Choose A Field Management Software For Your Farm?
Modern technology offers a diverse desktop and internet programs for farmers to incorporate in their businesses. The type of operation your farm runs, the level of automation it may or may not have in place, level of expertise with farm management, scheduling, planning, or record keeping software, and all the important things your business needs play an important role in choosing the correct software, in our experience.
While some field management software focuses on specialized demands, there are many that have custom made software for a particular scale of activities . For instance, IoT devices or tractors with automatic tracking and reporting features. A wider range of functions is available in other systems, which can benefit your entire agriculture operation including grazing management, equipment record keeping, farm accounting skills, animal monitoring and genealogy, CSA management, etc.
However, here are a few key features for both livestock and crops of farm management software that you must look forward to while picking one for your business.
Field Management Software's Key Features For Livestock
Features for recording and tracing animals
Planning and grazing management
Records of vaccinations, deworming, neutering, and other treatments for animals
Animal breeding and family history
Metrics for feeding and feed conversion (FCR)
Livestock task and schedule management
Reporting on activity
Average Daily Growth (ADG) monitoring for animals
Revenue statistics 
Break-even and ROI analysis
Input monitoring
Tracking the production of milk, eggs, meat, and other products
Field Management Software's Key Features For Farm
Crop preparation
Tracking crop growth and yield 
Characteristics for storing rectraceabilityacability
Maps of farms, fields, and property lines (also key for organic certifications)
Management of farm schedules, tasks, and work
Geotag activities and notes
Yield projections
Rates of agricultural and field output (harvests and yields)
Activities related to fields and crops, such as weeding, fertilizing, and applying pesticides, are essential for a successful agricultural enterprise and any organic certification.
Tracking of soil and crop treatments
Crop loss and the cause of loss (disease, pests, etc)
Forecasting the weather
Available both offline and online
Field, crop, and other venture costs and revenues (overall profit and loss
Monetary stability and reporting
Save documents and images.
(soil sample/nutrient tracking) soil health monitoring
Management of inventories and warehouses
Service histories for machinery (tractors, etc.), running costs, etc.
Management of sales and orders
Contact and supplier information
Analytics and reporting
Reporting on compliance
To truly test out an online service, look for one that provides a free, no-hassle trial. Check to see what is most practical for your organization and simple to utilize.
Importance Of Choosing The Right Field Management Software
Farming alone overburdens the farmer with all the tasks and obligations that come with it, whereas, the management of farming business adds as an additional taxing and time-consuming activity for them. Farmers should rely on the assistance of their selected field management software in order to limit the amount of time spent on clumsy paperwork and have every activity documented and transparent.
A comprehensive solution is what the perfect agricultural software should be. Why does this matter? Because in addition to supporting various types of agriculture (conventional, organic, or integrated), it also assists with different aspects of farming business. Hence, the farmers get the support for every part of their products regardless of what they choose to raise.
On the other hand, the IoT and remote weather forecasting techniques help with protecting the farm from different kinds of losses and disasters. Because unfavorable weather circumstances like hail, frost, flood, and drought can greatly reduce output and result in financial loss. The same is true for late crop protection; if prompt action is not taken, the consequences could be disastrous. Hence, while choosing your field management software as a farmer you must see ease of integration with current system, hardware, or any other third-party systems.
It would be ideal if you opt a custom made software to meet your individual farming needs and solve the issues accordingly.
Importance of Mobile App Of Farm Management Software
The option to use a good field management system as supporting tools for the online application on an Android or iOS mobile device is another advantage. Since farmers are incredibly busy and spend most of their time in the fields, the most straightforward thing for them to do is to enter every action into the mobile app as soon as it is finished, while they are on the farm.
A good field management software would save any recorded data and automate the syncing process anytime and anywhere with or without any internet connectivity.
You would also need to find a mobile app that supports your native language along with different foreign languages which are needed to make your business grow. This would  not be a hassle since a majority of mobile applications created locally do cater to the needs of a particular region and market in terms of their features and languages. 
Finding agricultural software with a large geographic presence and a selection of all world languages is the finest choice. With this, you can easily customize your business account settings in a particular language to benefit from the features your chosen field management software has to offer.
Conclusion
Your farm is a company, and as such, it deserves field management software that enables you to quickly and intelligently decide where to spend and where to cut down.  A good farm management software would help run your business more profitably and efficiently than just keeping notes and records. It can be a challenging task to choose the best field management software for your farm business but with a little effort you can make a bigger difference to gain from your produce. 
Seize this opportunity to succeed with AgriERP to maximize your farming needs.